Welcome to the page where you can find out what's going on in the Benefice as a whole.
Also sometimes the thoughts of the Rector!
GREENBELT LIVE
Finally arrived on site last night (note to self, remember to come earlier next year to avoid the long queues getting in) and managed to get to John Bell talking about the Hidden Humour in Holy Scripture. Those who listen to him on Radio 4's Thought for the day will recognise his own dry humour. He talked about the importance of culture in understanding humour… we 'get' jokes which are relevant to our culture and subcultures. First century Palestine was no different in this respect, and he explained some of the situations Jesus was in and why his compatriots would have picked up humour that we miss.
Having hot footed it to John's venue I hadn't really had time to orient myself, so I sat for a little while before going into a talk by Peter Laws, a Baptist minister, talking about why our society is fascinated by frightening things, particularly the rise in interest in hauntings, zombies etc. Even on a lesser level our interest in a good murder mystery…. interesting…
My next encounter was with a friend from my training course, I didn't know she was going to be there so it was lovely to catch up. I had barely turned around before I bumped into another friend from my Bristol days… one of the things I love about Greenbelt is catching up a little with people from my past.
I finished my day by going across the lake to the other, quieter side to a venue called Shelter, where I listened to an Austalian poet talking about 'Spirituality when it all falls apart'. He talked with us and invited us to share with each other at times, as we explored those times when the old ways of relating to God somehow no longer seem relevant. Whether through some type of difficult event or whether simply transitioning to a different stage of life, how do we adapt our thinking about God to fit our new situatiion. God may be unchanging but we aren't… do we leave the God that no longer seems relevant to us or do we realise that God doesn't have to stay in a box we have created?
That seemed a good place to end my evening and I made my way back to the car through a vibrant light filled Festival village…and to bed.
Saturday 24th
Another cloudless sky today as I arrived at the Glade Big Top, Greenbelt's largest venue. This was soon full and overflowing on all sides to listen to 'A Shameless Conversation' between Nadia Bolz-Weber and Padraig O Tuama. Nadia is an American Lutheran Pastor who is at the forefront of challenging systems, including the Church, which damage people. Today she was wondering why the Church has for centuries been so hung about sex, and spoke amusingly about the messages she was given growing up. Many of the audience clearly recognized the picture she drew of growing up with a sense of shame around sexual feelings.  Padraig too spoke of the years he spent as a teenager undergoing reparative therapy in an attempt to cure him of homosexuality. Both talked about the effect this sense of shame had on their later relationships, not just with partners but also with Nadia's children. Nadia emphasised that this shame doesn't come from God but from those claiming to speak for God. She ended with a benediction which emphasised the love God has for each of us in all our rich variety.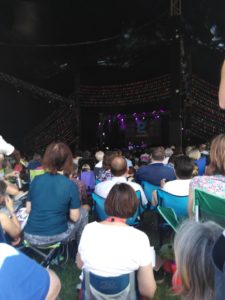 I stayed in the Big Top for the next session which was the Archbisop of Canterbury being interviewed by 2 members of the Greenbelt team. He didn't come out with anything very new… he was asked about BREXIT, he is known to have voted to remain, and he came out with what felt a politically correct response about the decision being a majority vote and that is democracy…. he slid away from a question about the honesty of the campaign…
Justin pointed out that the average Christian today is female, in her 30s and lives in the global South and emphasised that we need to move away from paternalisic, co!onial notions of 'helping' those in the Global South nd instead ensure that they are in positions to create the changes that they need.
He also spoke briefly about the Lambeth Conference which was delayed from 2018 when it was due as he felt thst the Anglican Communion were not at that point able to meet together with their differences. They will meet in 2020, with gay Bishops invited, unlike in 2008 when Gene Robinson wasn't- but same sex partners had not been invited., and he explained that to do so would mean that others who needed to be part of the conference would not be there.
After what felt like a lot of opinions to absorb, I decided to attend a session entitled The Daily Mirror. This was a smaller much more interactive session with a panel led by Cole Moreton looking with the audience at some of the items in our news, we ranged from the sublime to the ridiculous.
By now my brain was beginning to hurt… so Beer & Hymns seemed a good thing to do… I do love a good sing, and an hour spent singing the old favourites in a huge crowd, accompanied beside me with a herd of inflatable giraffes, was definitely a good sing.
A break for something to eat seemed in order and I found a shady spot near the art shows, housed in garden sheds and sat and let the atmosphere wash over me.
My next session was smaller than it might have been if Russell Brand hadn't been in the Big Top at the same time, however the speakers talking about wisdom at the margins. Each panellist was part of a community often overlooked and marginalied by the Church, and included a single woman talking from the perspective of being single in a church where family is seen as the norm. There were some interesting thoughts and left me pondering how to ensure all are included and all voices heard without making it their responsibility to inform us.
I once again went to the other side of the lake, this time for an inclusive communion. There wer about 300 people there but this is small compared to tomorrow's big communion, so it was good to feel fed by this central act of my Christian life – and not to have to do anything at all except worship:-)
I met a friend from my last parish here so we got some food and sat for a catch up… a relaxing interlude, and obviously n a good spot as we were joined first by a priest colleague from Ely, then my friend's partner, an opportunity to discuss some of what we had seen and heard over the day.
I had intended to go to a session about a creative response to Othello, but I was unsure whether my knowledge of Othello  was sufficient to allow me to fully participate. So a gentle walk through the stands hosted by different Christian organisations seemed a good way to end the day.
And so to bed…
Sunday 25th
Sunday mornings at Greenbelt are given over to an enormous celebration of the Eucharist. This is very much a marmite situation- you love it or hate it. I'm afraid I belong to the second group, and whilst I had intended to go anyway, a bad night gave me the excuse to give it a miss this year. So I can tell you little about it except that the thene was Christmas…
I arrived on site in time to attend the 2nd of 3 sessions looking at the 5 women named in the genealogy at the beginning of Matthew's gospel. Yesterday they had looked at Tamar and Rahab and today we were looking at Ruth and Bathsheba, particularly in relation to marriage. Biblical accounts of marriage bear very little relation to modern marriage, marriage at this time was very much to do with ensuring the male line continued, so wifely fidelity was essential to ensure that any boys born were definitely the husband's.
We were invited to talk to those around us about why we thought people got married an dwhy they stay married. It was interesting to realise just how recent 'love' marriages are in the Western world. Even today when most people in our cukture woul expect to marry for love, our discussions revealed how often being able to share costs, buy property or ensure our childrens' inheritance played at least a part in the decision to marry.
Our leader drew our intention to the fact that in both the case of Ruth and of Bathsheba, the women were not entirelu passive recipients of the patriarchal system, they played a part in ensuring the system persisted – despite this system actually treating then more as possessions than as people.
There was much food for thought in tbis session and I hope to come to the final session tomorrow.
My next session was in the Foundry, a discussion/cafe venue which I hadn't visited before. Christians against Poverty, were leading this discussion about poverty. They told the story of a couple with two children who we both working, dependjng quite heavily on Dave's mother for childcare, a situation many of us recognise. Sadly Dave's mother developed cancer and died, on top of their grief the young couple were trying to juggle their work commitments to share the childcare. This meant that they rarely saw each other and when they did they were tired and crabby. In the end the relationship didn't survive and Dave's wife left the home, leaving him to raise the children. He now realised that it was impossible for him to work and care for the children so he gave up work. He then entered into a spiral of not enough money so borrowing and not being able to make his repayments, eventually he lost his home. Fortjnately for Dave he was put in touch with Christians against poverty who helped him arrange repayment s hemes axn also offered him some emotional support.
Dave's story demonstrated how easily people can slip into debt because of circumstances beyond their control. So many people is this ciuntry are living so close to the edge of poverty, it can only take one thing to push people from coping into not. We had quite a long discussion about what we can do as Churches and as individual Christians to allow people to live full lives without the fear of getting into debt.
My next session on women kn hebrew scriptures was cancelled so I decided to honour the hot weather by buying an ice lolly ad sitting inthe shade of a tree for a while.
My next session was entitled 'The world does not need any more white saviours' and a panel of mainly black people, including the soon to be Bishop of Dover, Rose Hudson-Wilkin, took questions following on from David Lammy's tweet quoted above. We need to move away from a patronising view that Africans are victims who need our help, rather than people with equal voices who need to be heard. Not always eazy as we might not like what we hear…
I have been very good so far at not going into G store, the bookshop… those of you who have been into my home know how little I need more books… but I do so love to buy books, so I finally allowed myself to go and have a look… There was a sale on so unable to resist a bargain I bought some, and I also bought Nadia Bolz-Weber's lagest book, Shameless…
I promise that I will read these books… and I would feel much less guilty about my book buying if others shared them. So if you would like to please have a word with me about borrowing something – promise I won't ask for a book review….!
I decided to have an early night so left while it was still light – very handily as I'd been parked in overf!ow parking this morning and wasn't entirely convinced I'd be able to find the car again – fortunately all was well.
And so to bed…
Monday 26th
Another hot day dawns and today Amanda is joining me.
We started by joining John Bell in the Big Top, where he talked about the imagination as essential to faith. With his usual dry humour he took us througb Biblical examples of the use of imagination. Isaiah's reference to the wolf and the lamb lying together and the child playing over the snake's nest were not literal facts but the use of imagination to suggest how things would be different in God's kingdom.
He went on to suggest that Nelson Mandela employed his imagination when after his release from prison, he was prepared to relate to those who had previously been those responsible for the worst actions under apartheid. Those who are best at doing this aren't ignoring the present reality but using imagination to see a different possib!e future.
He talked about Jesus being a result of God's imagination… a way to bring a different kingdom than the prophets had been able to.
He also explained the difference between Fantasy and Imagination, suggesting that Imagination begins in reality but moves it on, whilst Fantasy does not begin in reality. John then bit the bullet and talked about BREXIT, a subject which had been somewhat conspicuous in its absence around the site, he suggested that some of the comments relating to BREXIT had more to do with fantasy than imagination and he suggested that for us to move forward we needed people to use imagination to find a better future.
We remained in the Big Top – it was pretty impossible to move anyway – to listen to Nadia Boyz-Weber this time in conversation with Rachel Mann.  Once again she was looking a Shame particularly in relation to bodies, we were asked to talk in twos and threes and say what parts of our bodies we liked… again an interesting conversation to listen to.
We moved from this session to another panel session asking whether the Church was History. They started with the stated figures that only 1% of under 24's identify with the Church of England. The panel were keen to think about church beyond the numbers game and asked the audience for examples which suggest that the Church is still alive for this age group. There were an encouraging number of examples including Messy Church, Holiday clubs etc.
Bishop Stephen Cottrell, who was one of the panel, talked about 'Humming church' which he suggested was the feeling he got when visiting a church which was in touch with the Kingdom. Kate bottley, another member of the panel, talked about how she visits lots of churches now that she is no longer a vicar, and she was fairly depressed by what she found on the whole. It made me think again about something the Ministry Team have been discussing, how vital our sidespeople are… the welcome people receive when they arrive will set the tone for everything that comes afterwards.
I also went off in my head thinking about how we can get the views of those who don't come to church about what would help them, we can come up with loads of ideas but if they are just our ideas and not what others would like then they have less than nil chance of being useful!
.
Click here for this week's pewsheet